3DM CONTENT MANAGER
AN INDISPENSABLE STEP IN THE 3D MAPPING DATA CHAIN
Organize & manage
Catalog & Archive
Improve & optimize image and point cloud data
QA/QC
Document and report independent
Deliver ready-made projects after capture
Upload to share online
Features
Docs & Downloads
A FUNDAMENTAL STEP BEFORE ANY TAGGING, MAP PRODUCTION, OR DATA SHARING
A DESKTOP-BASED SOLUTION TO MANAGE POINT CLOUD AND IMAGERY AFTER CAPTURE
MANAGE COMPANY-WIDE MAPPING DATA
Import and organize all available 3D data at your office, a fundamental step before any tagging, feature extraction, map production, or sharing of data. Based on Orbit 's impressive mapping engine, the 3DM Content Manager offers all tools to overview, archive, merge, clean, correct and catalog the collected 3D mapping data for Indoor, Oblique, UAS, and Mobile Mapping jobs.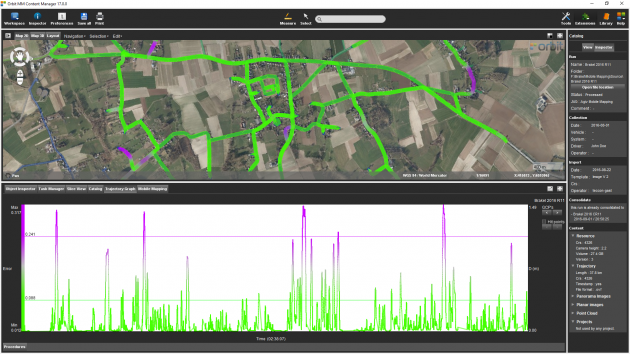 A FUNDAMENTAL TOOL FOR EVERY 3D MAPPING SERVICE PROVIDER
Before sharing 3D data collected for Indoor, Mobile, or Aerial mapping projects, it is required to optimize the data for performance, use, and further storage. Archiving all available data at company or project level. Cleaning lidar point cloud data, removing ghosts, optimizing image quality, analyzing, and reporting positional accuracy are just some of the essential steps in 3D Data Management.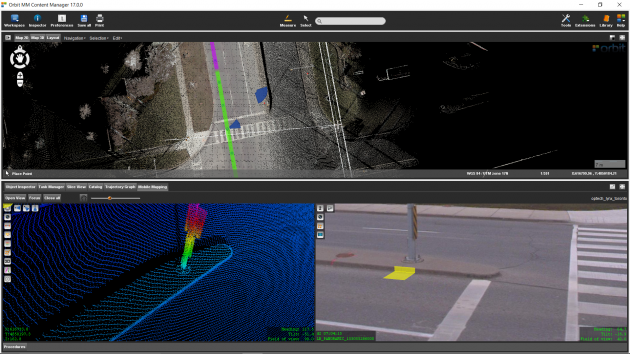 STRONG INDUSTRY SUPPORT
Orbit's 3D Mapping software supports all known mobile, uas, oblique, and terrestrial mapping hardware systems, translating different device setups and specifications into a single user-friendly environment. With templates tuned to each vehicle setup, Orbit's products make import very simple.
3D MAPPING CATALOG
Keep an overview of all available 3D Mapping data.
Check a listed 3D data collection on map and availability.
View multiple passes, check positional accuracy.
Select to open, process, archive, consolidate, and deliver.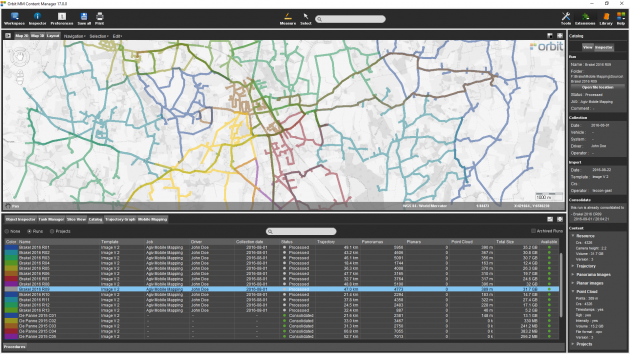 Processing and Optimization tools
Point cloud thinning and stripping
Image optimization.
Create ortho image from point cloud.
Create ortho image from spherical imagery.
Postponed processing via the Task Manager.
Data consolidation & delivery.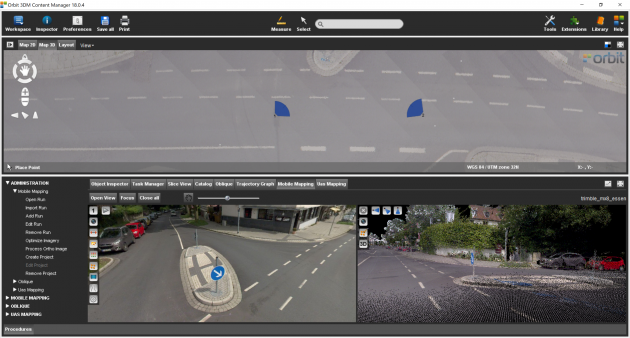 CORRECT POSITIONAL ACCURACY
Analyze positional accuracy by a graph and colorized display on the map.
Select any stretch of the trajectory.
Load ground control points and measure constraints.
Preview instantly the trajectory adjustments.
Adjustments include point cloud and imagery positions and angles.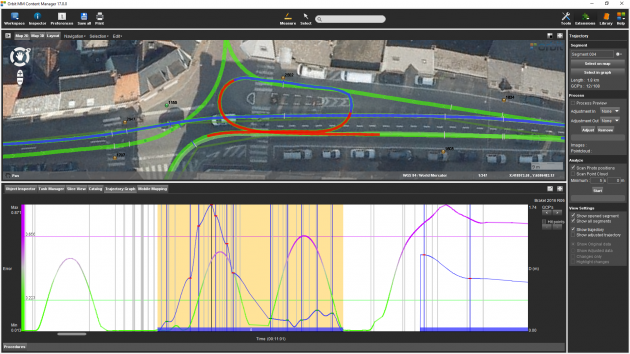 CLEAN UP MULTIPLE PASSES, MOVING OBJECTS, NOISE
Remove moving objects.
Remove people.
Remove unwanted elements.
Clean up any inconsistencies.
Consolidate or export the cleaned point cloud.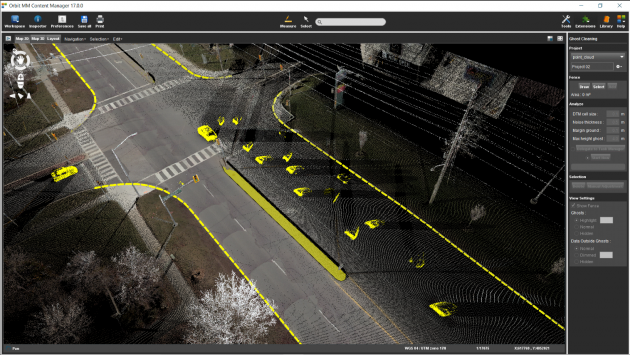 UPLOAD TO 3D MAPPING CLOUD OR 3DM PUBLISHER
Upload the consolidated Mobile Mapping project directly to the 3DM Cloud, Orbit GT SaaS, and cloud-based online platform, or deliver to the 3DM Publisher, the on-premise solution to share point clouds and imagery online.