3DM FEATURE EXTRACTION
THE TOOLS FOR A PROFESSIONAL 3D MAPPING BUSINESS
complete mapping unit for Image, LiDAR and DSM mapping
process features and results in semi- or full automated mode
document assets, centralize data management
roles and permissions for team work
Features
Docs & Downloads
ADVANCED FEATURE EXTRACTION SOFTWARE FOR 3D MAPPING
DESKTOP-BASED SOLUTIONS TO MAP AND MODEL 3D DATA
PROFESSIONAL FEATURE EXTRACTION UNIT
The 3DM Feature Extraction product has no parallel anywhere in the world: a smart set of displaying and measuring tools combined with a dedicated user interface for every type of data (360/planar imagery, LiDAR/DSM point cloud) allows every user to browse efficient through all types and sizes of mobile, indoor, uas, and terrestrial mapping content in very little time.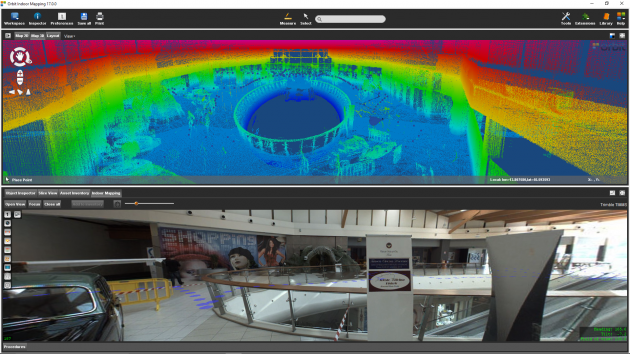 FULL 3D VIEW
Full 3D and image viewing; Play through all images; Overlay any 2D and 3D vector data; Set transparency, view depth, height adjustment of 3D point cloud; Measure in 2D/3D & Imagery; Single click and triangulation measurements; Semi-automated measurements of point, line, area, circle, catenary curve, squared volumes, etc; Extract features and save in GIS/CAD; 3D view in stereo, perspective and isometric mode; Skyline backdrop on 3D view; 3D movie creator and export (flythrough)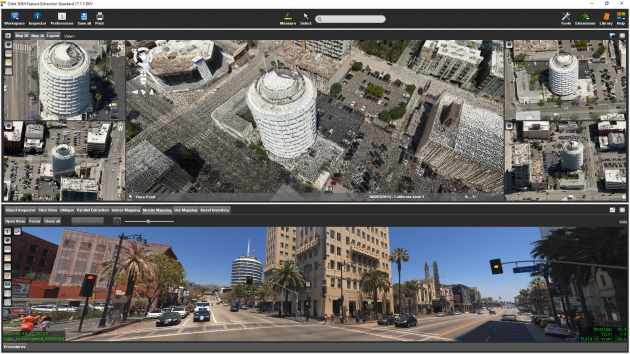 STRONG INDUSTRY SUPPORT
Orbit's 3D Mapping software supports all known mobile, uas, oblique and terrestrial mapping hardware systems, translating different device setups and specifications into a single user friendly environment. With templates tuned to each vehicle setup, Orbit's products make import very simple.
AUTOMATIC SURFACE, RIDGE & CORNER RECOGNITION
Use the preference box to optimize your hover behaviour. Colorize hoover to visualize information about the underlying pointcloud, track surfaces, ridges and corner, snap to nearest point, interpolate between points, … ! In other words, precise the hover exactly in your way depending on your workflow needs.
PRODUCTION TEAM SETUP
The Orbit 3DM Feature Extraction software comes in three version and is available in a client-server setup. This Client-Server setup allows professional modeling teams to organize and manage the production workflow according own requirements.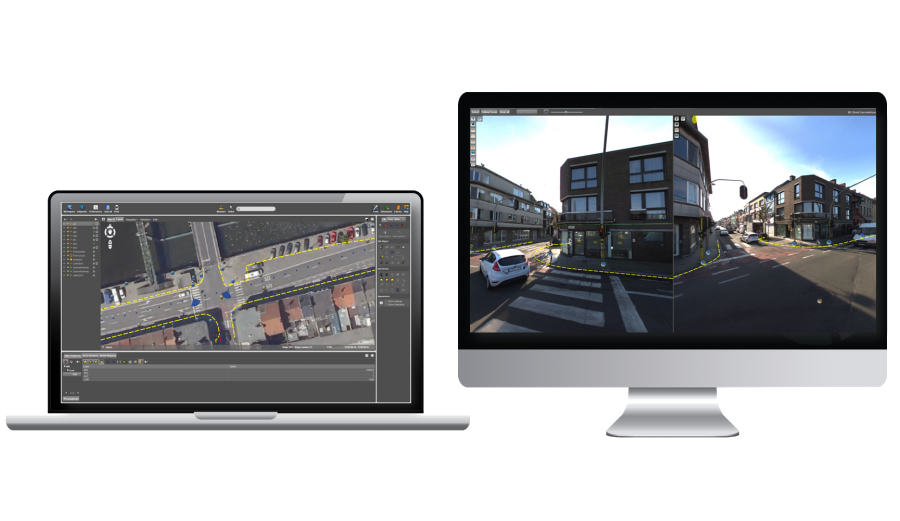 ANALYSE & REPORT VOLUMES, PROFILES, CONTOURS, CROSS SECTIONS, CLASHES
Process cross sections along your trajectory or create a profile along a 3D path. Calculate and analyse volumes over time. Detect clashes using an imported or designed shape. Get your optimal Slice View for in-depth analyses. Generate contour lines within a predefined area. Document & report your results.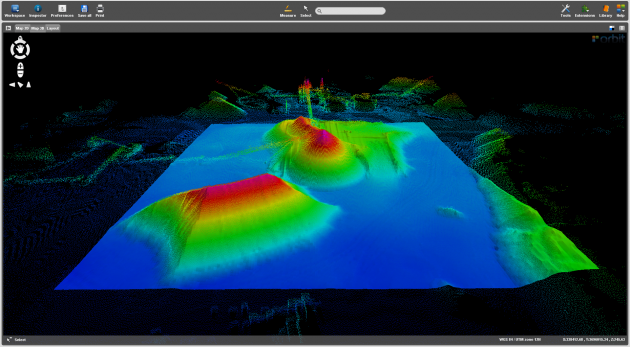 Autodetection for poles and traffic signs
Along with assisting procedures to define the perfect set of parameters, as well as a complete verification procedure to QC afterwards, the 3DM Feature Extraction Pro product comes with full automated detection tools for poles and traffic signs. Results are stored in your database with all required metadata such as ground position, height, snapshot, shape of sign, etc.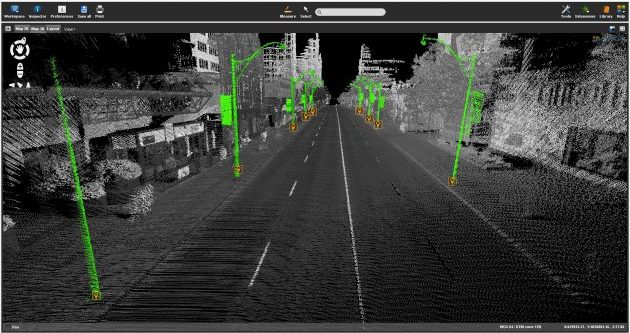 HORIZONTAL AND VERTICAL SLICES, FLOOR PLAN BUILDER
Make the right slices through the captured point clouds to update indoor or outdoor meaurements. Start from scratch or update existing floor plans using the incorporated Floor Plan Builder. The offered Floor Plan workflow reduces work load and time and delivers maps as never seen before.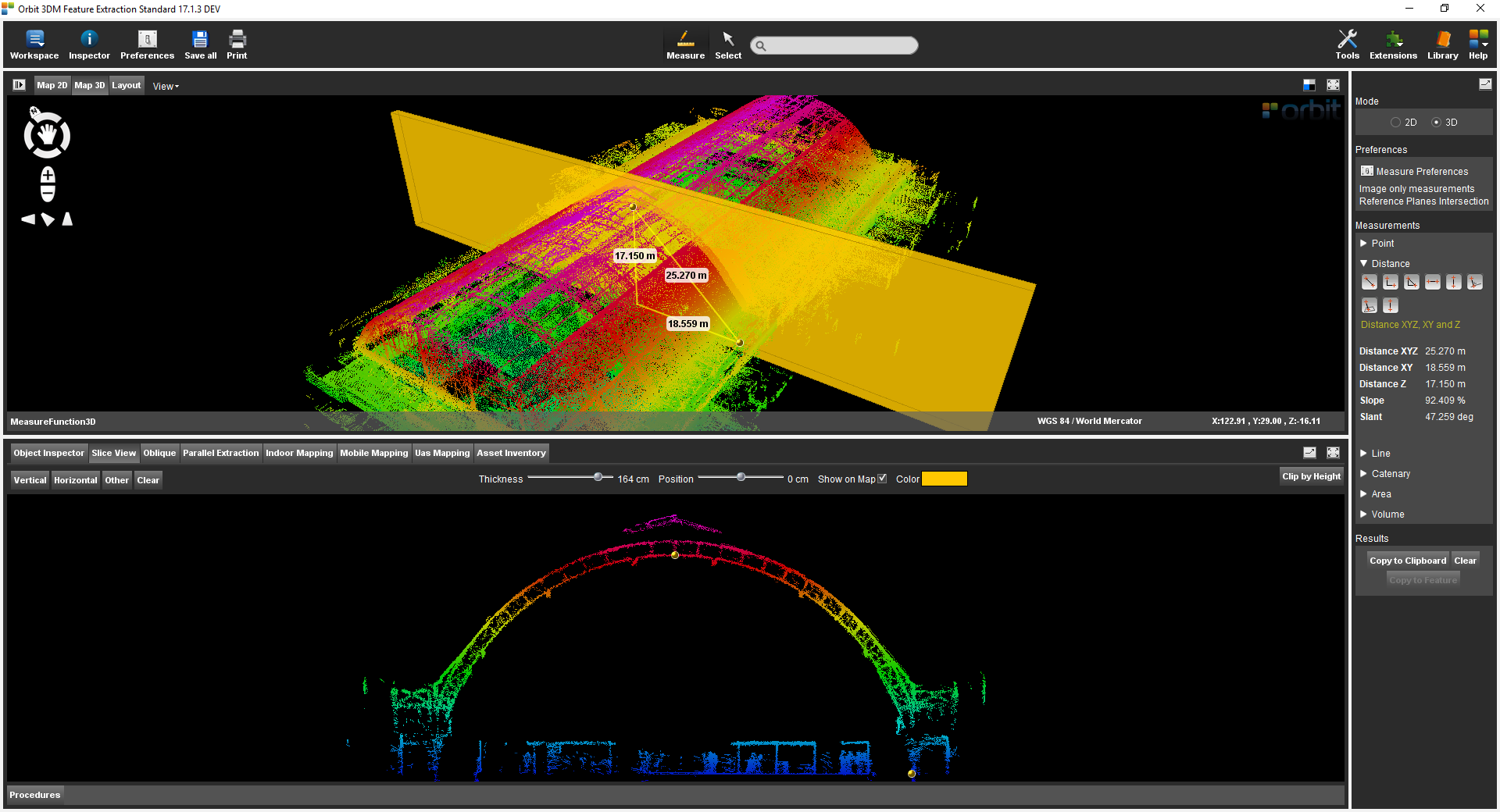 WORKFLOW ASSISTED FEATURE EXTRACTION MANAGEMENT
Workflow assisted extraction of features
Define and manage layer themes easily
Create objects with any measurement tool, add attribuation, snapshots and documents
Use quick procedure for fast extraction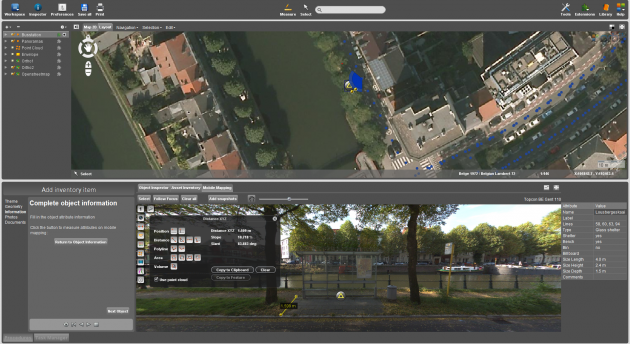 OPTIMIZE TEAMWORK WITH CLIENT-SERVER SETUP
Set up your production unit with a teammanager and several operators in a floating license structure. The teammanager is responsible for importing and preparing the mobile mapping data, the workflow setup, data management, export of themes and database, and control of all operators. The operators on the other hand can work together in teams sharing all their resources : mobile mapping data, themes, visualization, permissions and many more. Elements are extracted in a central data storage environment which means real-time adjustments for all operators!
MOST POPULAR

STANDARD

included in BackPack Edition

included in BackPack Edition

included in BackPack Edition

included in BackPack Edition
A more detailed full overview of all functionalities and components can be found on the knowledge base.