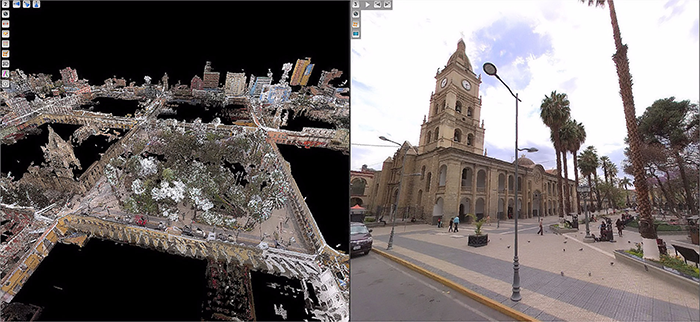 Challenge
SEMAPA, a water utility company located in the city of Cochabamba (Bolivia) launched a competitive bidding to find a company that brings to the table a viable solution to update, visualize, manage and measure their field assets and pipe network information, knowing that they had serious budgetary restrictions; assets and pipe network were stretched out over an area covering around 3.000 hectares; the starting point was an outdated and most probably inconsistent database about field infrastructure.
Solution
To submit a bid, we needed to devise a solution that, whilst satisfying these constraints, should also prove to be cost- and time-effective. We knew that – without a unified platform on which geospatial information pertaining to the different assets (pipelines, valves, pumps, reservoirs, service connections, water meters, etc.) could be loaded, distributed, updated and/ or consumed – all efforts would have ended with the same current analogue problems but in a digital format.
By experience, we were aware that Mobile Mapping technology could speed up geospatial data capture and production, and that LiDAR point clouds integrated with 360° high-resolution imagery would provide the functionality and feel of reality on the desktop. This would speed up adoption by users with limited IT knowledge and experience, which in the end would be one of the project success keys. We decided that data acquisition would require the combination of high resolution images and 3D point clouds to allow detailed observations, feature extraction and measurements.
Result
We were able to gather up to 500.000 images, each in an 8,000-by4,000-pixel resolution, totalling a volume of 3TB. When adding the LiDAR data, the total data volume is about 21 TB of imagery and point cloud data.
Orbit 3DM Publisher has proven to be the ideal solution to share and manage all those terabytes of information effortlessly, easily combining imagery, point cloud, vector and raster data. The client can access a georeferenced LiDAR point cloud and 360° imagery data sets in a web-based environment, without noticing delays due to the huge amount of information that is going back and forth.
Back to all cases
Loved by ...