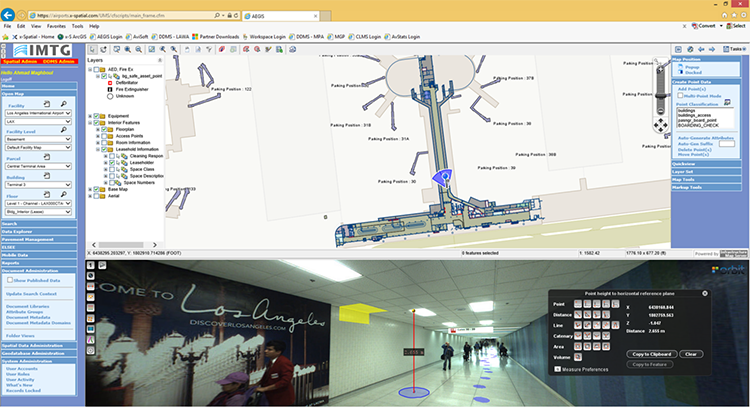 Challenge
Collecting and managing spatial data at airports is challenging. Just about everything in the airport needs to be tracked. From pavement management, runway markings and lighting to indoor space usage, equipment's and signage, all of these need to be integrated with various environmental, safety, security, operational or facility and maintenance management tools.
Operated by Los Angeles World Airports (LAWA), LAX is the sixth busiest airport in the world. As part of their management processes, LAWA periodically surveys the terminals at LAX to check for changes and ensure spatial data is up to date. Two terminals, the Tom Bradley International (TBIT) and Terminal 3 have undergone numerous renovations. As a result, these buildings required more in-depth and rigorous surveys.
Solution
x-Spatial, LLC, a Los Angeles-based company already provided software solutions for airport infrastructure management. In addition to managing the data collection work, x-Spatial provides tools for management and integration of spatial and enterprise information. The work at LAX encompassed field surveying and data processing to produce georeferenced GIS data, 2D floor plans and 3D models for all of Terminal 3 and three floors at TBIT.
Result
x-Spatial's unparalleled knowledge of spatial data at airports, combined with the latest technologies from Orbit GT and Trimble have raised the bar to a new level, it is now possible to start using your data within hours of completing the scanning process.
Combining the indoor mapping with existing geospatial data provides a wealth of vital information, when published can be viewed with the ease of street view. Presentation of data through 360-degree photography with underling LiDAR scans when integrated with GIS proves a winner for all stakeholders within the airport. Environmental, Operations, Security, Safety, Commercial, Engineering, Facility management, HRM and external organizations such as Police, Fire department and Federal agency all profit from detailed information that is easy to understand.
Back to all cases
Loved by ...