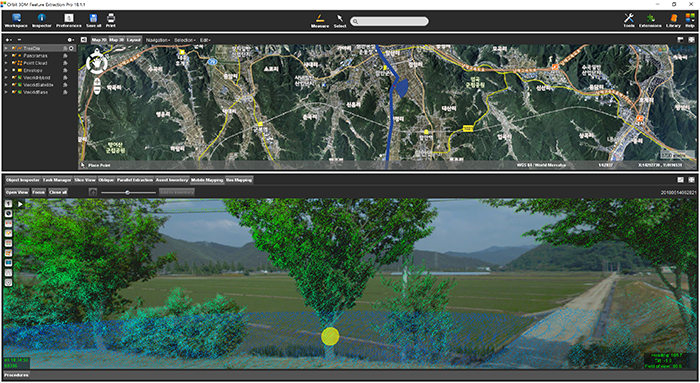 Challenge
This project is to construct a system for street tree maintenance that will systematically perform tasks related to street tree growth, repelling insect attacks, statistics for urban planning and more. Initiated in June 2018 by the local government of Haman City in Kyungnam province, South Korea, completion is due by November 2018.
Solution
The local government has decided to use their own Mobile Mapping System (MMS) for collecting street tree data. The data survey by MMS was designed in advance using 3DM Content Manager and all the measurement data was extracted using Orbit 3DM Feature Extraction.
Result
The meaning of this project is very important since this is an exemplary case to build a multiple geospatial information database in local government by using MMS and its postprocessing Software, Orbit, very precisely in a short period of time. Success in providing good results , the needs and demand for MMS and Orbit S/W in the geospatial information database market will increase dramatically. We are confident that quite a large number of local governments will follow the same technique as setup in this project.
Back to all cases
Loved by ...