Orbit GT has launched version 19.5 for its full 3D Mapping portfolio, including a significant upgrade for the QGIS plugin.
"Regular updates of our portfolio bring new features and updates to our customers in the fastest possible way, "Says Peter Bonne, CEO of Orbit GT. "A special update to our QGIS integration is part of this release, of which I'm sure it will please many users.  The 19.5 versions of 3D Mapping Cloud and our Desktop portfolio are now available for use."
Version 19.5 includes the Introduction of Floors, Street=level planar imagery, updates for QGIS, ArcPro plugins, and various updates and fixes.
Join us in our booth, our Presentation on Wed 22nd 1:30 pm in the Discover track, or at our 3D Mapping Daytm on Fri 24th just near to the Conference Center"
Having issues with Mobile Mapping ?  Want to improve your workflow ?  Then join us on our 3D Mapping Daytm on Fri 24th for a full day of free training, a few case stories and reality capture techniques.
Register here for free training now.
( http://orbitgt.com.pages.services/3d-mapping-day/ )
Back to all news items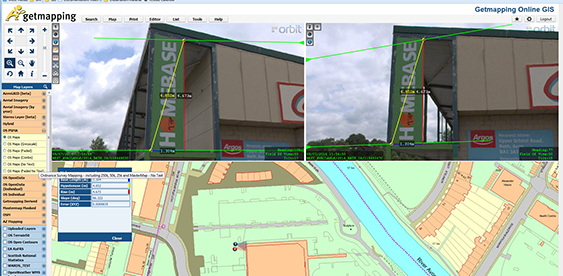 Getmapping plc is a leading provider of aerial photography, mapping products and data hosting solutions in the UK and South Africa. Founded in 1998, Getmapping was the first organisation to create a complete photographic record of the UK, called the Millennium Map. Since then, Getmapping has expanded to provide Web Services (WMS, WFS, INSPIRE), hosted GIS and consultancy to a range of industries in the public and private sector ...
Read More
Street Layer has generated savings in many departments and is used throughout the Council for anything from planning, insurance validation to our customer service team taking calls.